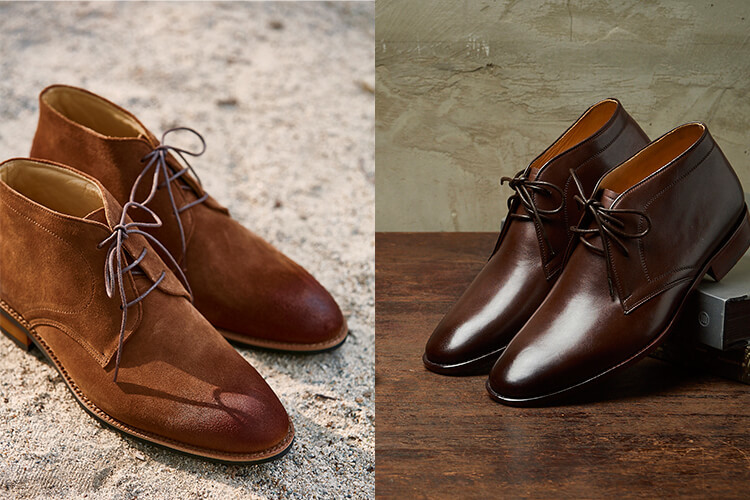 ▲ Chukka Boots / Desert Boots
The History of Desert Boots and Chukka Boots
This term came from Polo, its one of the classic item of the accessories in menswear. Speaking of it's history we must start from 13th century when the sport "Polo "was brought to India from China, in 1850 introduced by the English from India, later become a very popular sport among the nobles of the English Royal Court, and come to be the origin of the postmodern polo sport. The footwear used by the nobles during playing polo, was named after the time calculation unit within the game : chukker which means 7 minutes per round, developed into the chukka boots we known today.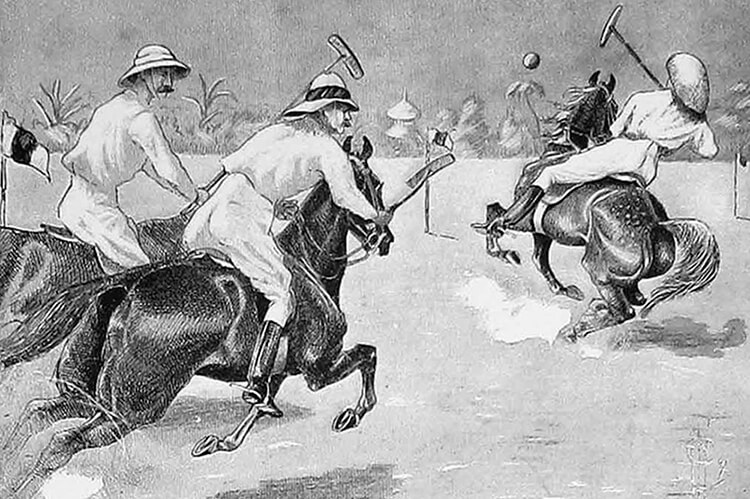 Chukka Boots Shoe Types
The eyelets of the chukka boots compared with other shoe types, consist only two to three eyelet holes. The boots is composed by two sections, which is sewed together by the two main pieces of the upper piece and the bac k stay. Chukka boots proven that what is a great design, from WWII to the Clarks designs being categorized as desert boots in the end of the 40s pushed chukka boots to the main stream fashion, until now the design hasn't changed much. Chukka boots till now are still simply a pair of low heel ankle boots, consists relevantly less eyelets, and with a wider back piece design surrounding it. Like other shoe styles, they always changes alongside with the trends of fashion, however Chukka Boots has always been all time classic.
▲Oringo Chukka Boots Suede Edition
「Desert Boots」originated from the boots of the desert soldiers
One of the style extended from Chukka Boots- Desert Boots, it's like many types of shoes, most of them evolves from warfare or popular culture. The birth of the desert boots began in the duration of Second World War (1939~1945). In the year 1941, the founder of the brand Clarks, Nathan Clark come across a troop of English soldiers stationed at the region of North Africa. He quickly realize the boots that these soldiers are wearing has a high and a hard rubber sole, it makes it very difficult to walk on sand, because of this he commissioned a shoemaker in Cairo to customize a pair of boots that consist high ankle design, suede surface and raw rubber sole.
When being tied with laces, this create a conical shape at the bottom, which looks like a funnel tipped upside down, this design allowed sand to flow through, to avoid foot from being uncomfortable due to immersion of sand when traveling through the desert.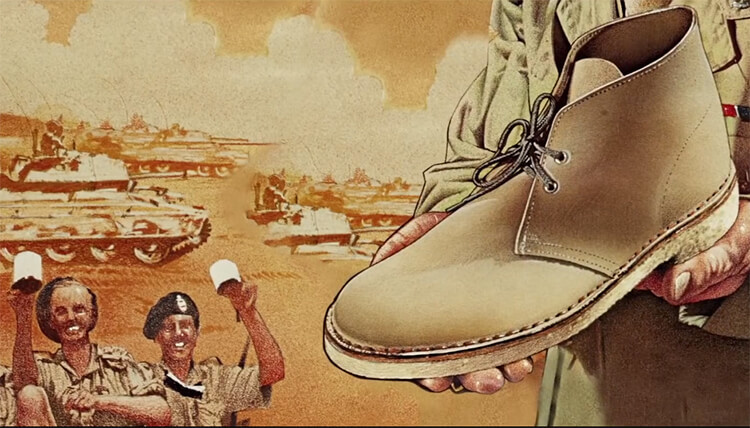 Although Clarks isn't the only person at the time produces desert boots, however definitely is one of the first starting to marketing and promote desert boots. The similar shoe type still exists today, a pair of high ankle suede surface, soft leather boots, consist high contrast rubber sole (lighter color), although nowadays some may be made with leather sole or from other material, however still retain the color contrast between the sole and surface.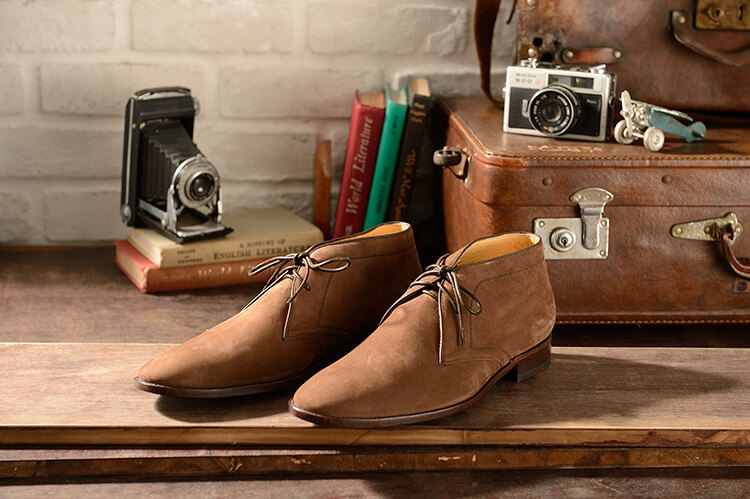 資料來源:
https://www.realmenrealstyle.com/chukka-boots/
https://bespokeunit.com/shoes/styles/desert-boots/#what